Panama Resorts Florida
Panama City Beach, Florida is a popular vacation destination and home to various hotels, hostels, inns, and resorts. Our friends at Networx Solutions Inc. have recently implemented a project to ensure reliable high-speed Wi-Fi at several resorts located in the waterfront town.
Wi-Fi has become a significant standard among hospitality businesses—so significant, in fact, that most visitors may leave negative reviews and switch to other hotels on their next trip just because of bad Internet connectivity. Also, considering that competition is fierce in the Panama City beach area, hospitality businesses cannot afford to lose clientele over an easily avoidable issue.
For this reason, the solution was to upgrade the current Wi-Fi equipment to LigoWave's NFT 2ac wireless access points. The NFT 2ac tackled the issue on multiple levels:
by being powerful, ensuring reliable high-speed connectivity throughout all resorts;
by being compact, designed to look sleek, professional, and unobtrusive in a resort setting;
by being cost-effective, requiring minimal time, money, and energy for setup and upkeep;
by being practical, with simplified and intuitive use and with guest Wi-Fi functionality.
Almost 300 NFT 2ac wireless access points were deployed throughout all of the resorts, typically with one Infinity device per room. Even during times of heavier Internet usage (i.e. mornings and evenings), the NFT devices were more than capable of handling the loads with the client count reaching 400 and the overall Internet usage peaking at 62Mbps.
Management was overwhelmingly pleased with the results, noting that the new NFT 2ac devices fit in very well with the look and feel of the resorts and that guests were very satisfied with the quality of Wi-Fi provided. Also, they were surprised to see how fast device deployment was performed—all thanks to the Controller's automated configuration features that save valuable time and money.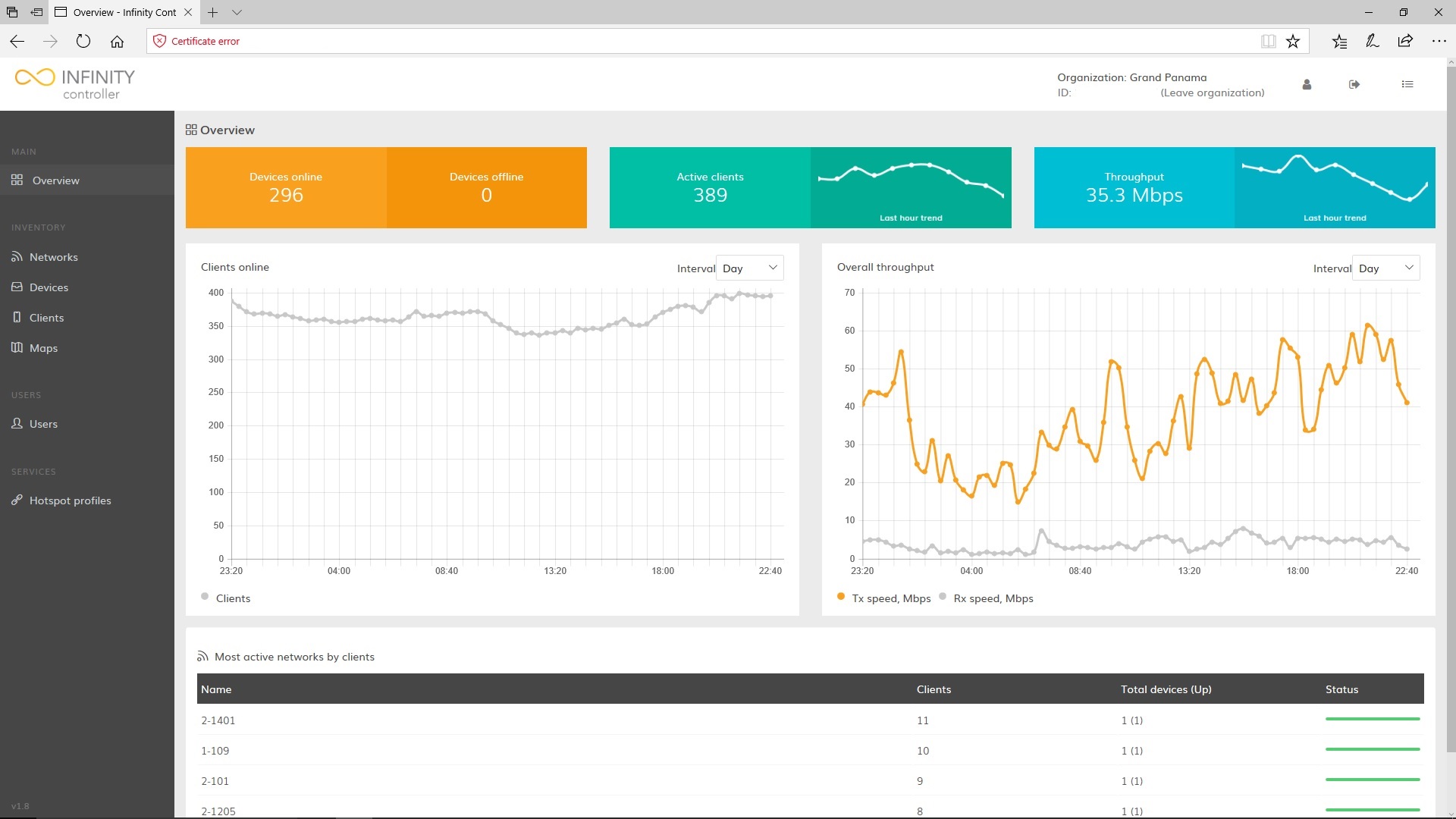 At the moment of the screen shot, there were almost 400 client devices connected to 296 NFT 2ac access points with peak throughput at 62Mbps.
Learn about LigoWave Partner Program
Learn more about Infinity Series
Contact sales